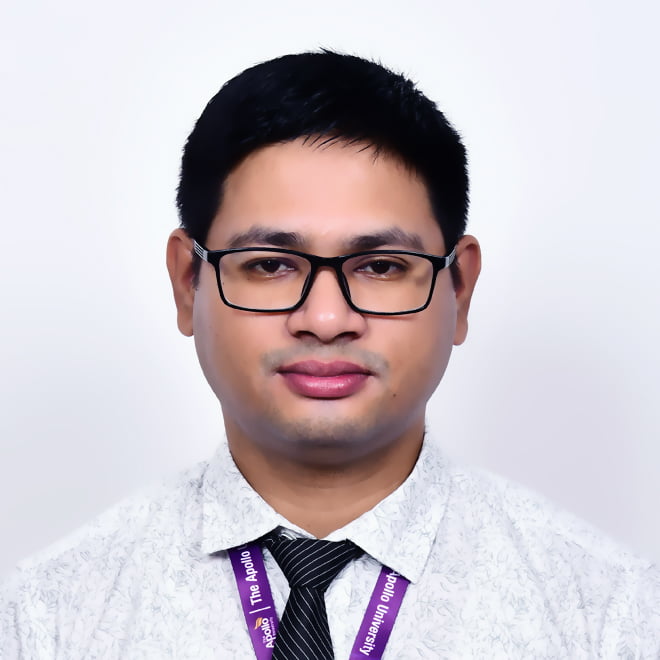 Mr. Ritu Raj Gogoi View All
Assistant Professor
School of Health Sciences
I completed my Masters in Applied Psychology from Dibrugarh University in the year of 2012. Then I pursued M.Phil in Clinical Psychology from LGB Regional Institute of Mental Health, (GoVT. India, MoHFW) with Rehabilitation Council of India registration. After Completion M.Phil degree I worked as a Assistance Professor at Centre for Studies in Behavioural Sciences for 1 Year. Then I worked as a Clinical Psychologist for 4 years at LGB Regional Institute of Mental Health.
I consulted psychological assessment and psychotherapy services in the Out-Patient Department and Indoor Patient Department and supervised M. Phil trainees. Lastly I worked as Assistant professor at LGB Regional Institute of Mental Health in the dept. of Clinical Psychology.   I consulted OPD & IPD patients. I provided psychotherapy and psychological assessments to the patients.
I Consulted childhood related disorders such as (ID, ADHD, SLD, and Autism), adult and geriatric cases such as (Depressions, Anxiety, Stress, Adjustment issues, Dissociation, Anger management, BPD, BAD, & Dementia etc.), substance use Disorders. Supervising & teaching M.Phil. trainees.
Develop new short term course on Clinical Psychology. Conducting research activities and providing services to Community Extended Clinic program. Currently I am working as an Assistant Professor at The Apollo University in the Department of Psychology under School of Health Sciences.
Education + -

Graduation In :

EDUCATION (MAJOR)

Graduation From :

DIBRUGARH UNIVERSITY

Graduation Year :

2010

Post Graduation In :

APPLIED PSYCHOLOGY

Post Graduation From :

DIBRUGARH UNIVERSITY

Post Graduation Year :

2012

Post Graduation In :

CLINICAL PSYCHOLOGY

Post Graduation From :

LGBRIMH, GAUHATI UNIVERSITY

Post Graduation Year :

2016

Doctorate In :

PSYCHOLOGY

Doctorate From :

TRIPURA UNIVERSITY (A CENTRAL UNIVERSITY)

Doctorate Year :

PURSUING

Experience+ -

Assistant Professor, Dept. of Clinical Psychology, LGB Regional Institute of Mental Health, November, 2022 to October 2023

Clinical Psychologist, NHM, Assam, September, 2022 to November, 2022.

Clinical Psychologist, Dept. of Clinical LGB Regional Institute of Mental Health, August, 2017 to June, 2021

Assistant Professor, Dept. of Applied Psychology, Dibrugarh University, August, 2016 to August, 2017.

Key Publication+ -

Publications in Journals

Anxiety, depression and quality of life in mothers of children with intellectual disability, Open Journal of Psychiatry and Allied Sciences, Volume, 8 (1).
A Holistic Psychotherapeutic Approaches for the management of obsessive compulsive disorder with poor insight. Journal of Mental Health and Human Behaviour. Vol.26 (1) (Published in a UGC care list and PubMed link)