Psychology for You – Anxiety and Depression Awareness Exhibition at TAU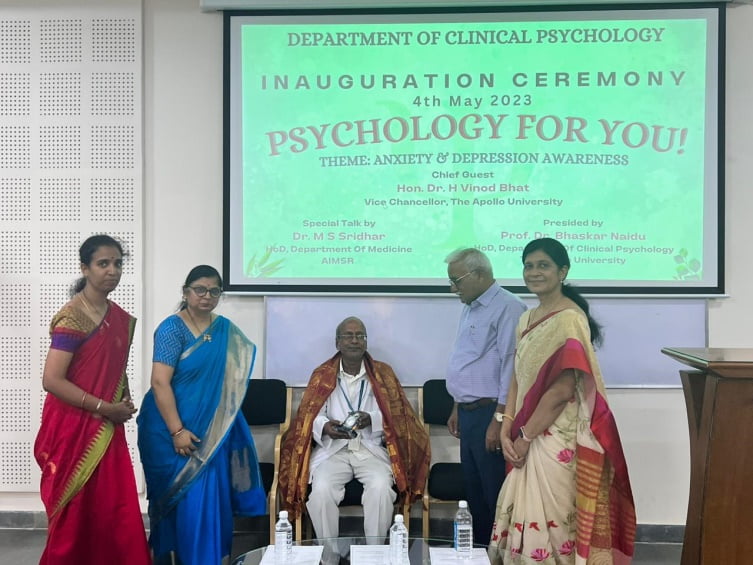 The Department of Clinical Psychology organized a three-day exhibition starting from 04th May to 6th May 2023 titled as "Psychology for You" and themed as Anxiety and Depression Awareness. We had approximately 400 students who attended the exhibition in these three days plus quite a few numbers of faculty as well.

The event started with Day-1 being the Inauguration of the Exhibition by our Honourable Vice Chancellor Dr. H Vinod Bhatt, The Apollo University and Dr. M S Sridhar, Professor, Department of Medicine, AIMSR, presided by Dr. S Bhaskar Naidu, HoD, Department of Clinical Psychology, The Apollo University.

For the Inauguration ceremony, we started with the first room that was The Psychological Testing room. We had exhibited few of our many psychological assessment tools in the room like Memory Drum, Maze Learning, Habit interference board, Steadiness tester, Wisconsin Card Sorting Test, Muller-Lyer Illusion, Tachistoscope, Bhatia Battery and Mirror Drawing test. The students explained all the tests very nicely to everyone.

The second room included fun psychological activities like Hand-Eye Coordination, plus a variety of charts and posters wonderfully explaining us about various psychological concepts and facts like Anxiety, Depression, OCD, CBT, Phobias and many more.

The last room had activity related to optical illusions, mindful and meditative activities like brain gym and move with music, learning wiggly block and other posters about the concepts of psychology. We also had Anxiety and Depression scales these in this room.

Post inauguration ceremony, Dr. M S Sridhar gave a wonderful and insightful lecture on Anxiety and Depression, he also talked about his experience in this field.

Following that, on the Day-2 we had a very special guest lecture by a Renowned Psychiatrist Dr. T P Sudhakar, HoD, Department of Psychiatry, AIMSR. He taught us in detail about anxiety and depression and the role of clinical psychologists to help people with these issues.

The exhibition was open for everyone in the afternoon hours for these two days and a lot of students and faculty were quite interested to know more about psychology.

Day-3 was fully dedicated for Psychological Tests and Exhibition, starting morning till evening. A lot students from AHS, Management, Physiotherapy, Nursing and MBBS showed up in the exhibition and were quite interested to learn about the field.
Everyone left with positive feedbacks and wanted to have more such events in the university.