PINK RIBBON 2023 program organized on 20th October, 2023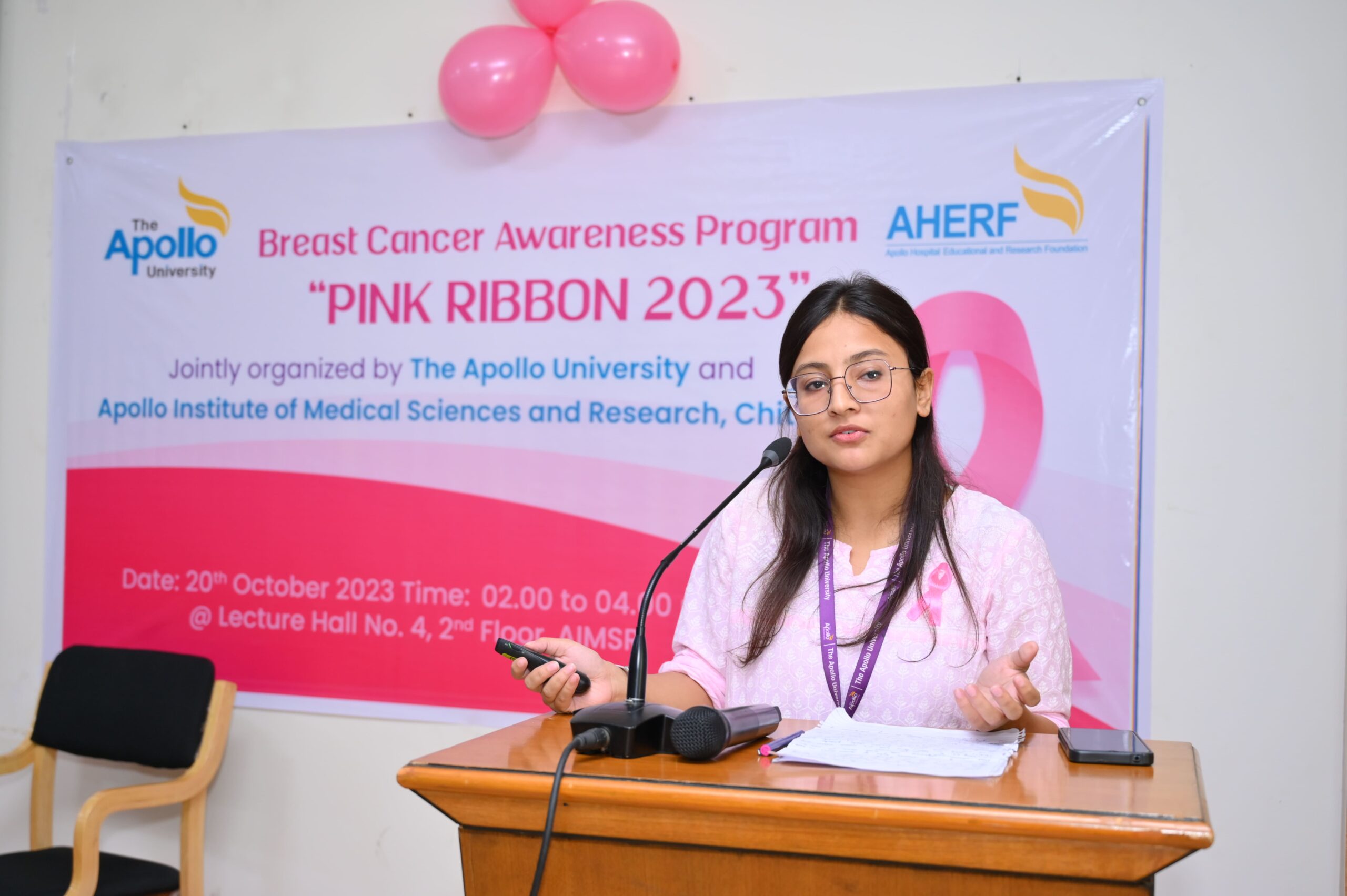 In a bid to combat breast cancer and raise awareness about its early detection, The Apollo University and Apollo Institute of Medical Sciences and Research jointly organised an insightful program that brought together students, faculty, and distinguished medical professionals. The event, held at the Apollo Knowledge City in Chittoor, left an indelible mark on all in attendance, emphasising the importance of community support for breast cancer patients.

Breast cancer, a grave concern affecting numerous lives and their loved ones, took centre stage as experts shared crucial insights and students lent their voices to the cause. The program was a testament to the power of unity in the face of such a significant health challenge. Prof. Parvati Bhat, a celebrated Gynaecologist from Manipal Medical College, graced the occasion as the chief guest. Prof. Bhat's profound knowledge and experience illuminated the audience about the pivotal role of early breast cancer detection and the emotional and familial support that is vital for those battling the disease. Her words resonated deeply, underlining the critical role each individual can play in the fight against breast cancer.

The Guest of Honour, Prof. Ramya RamakrishnanSurgeon and Associate Dean of Apollo Institute of Medical Sciences and Research, Chittoor, took the stage to share her expertise on early diagnosis and treatment options for breast cancer. Prof. Ramya's enlightening presentation provided valuable insights into the medical aspects of this disease. In a practical and empowering demonstration, she showcased the importance of self-examination for breast cancer, leaving the audience with actionable knowledge to safeguard their health. Adding a creative touch to the event, students of B.Sc. Biomedical Science and B.Sc. Genetics and Molecular Biology performed a heartwarming skit and dance program. Their performance beautifully highlighted the necessity of family and community support for breast cancer patients, serving as a powerful reminder that unity and understanding can make all the difference in the battle against this disease. To acknowledge and appreciate the active participants of the event, special mementos in the form of PINK RIBBON 2023 were presented. These tokens of appreciation not only recognized their involvement but also symbolised their commitment to raising awareness and supporting breast cancer patients. The joint effort of The Apollo University and Apollo Institute of Medical Sciences and Research has truly raised pink flags in the fight against breast cancer. The event served as a catalyst for unity and awareness, a stepping stone towards a future where breast cancer can be detected early and effectively treated, providing hope and strength to countless individuals and their families. As the community comes together to tackle this grave issue, it is clear that Raising Pink Flags at Apollo University is an essential step forward in the ongoing battle against breast cancer, proving that knowledge and support can be transformative in the lives of those affected.