Annual Day Report Tautsav – 23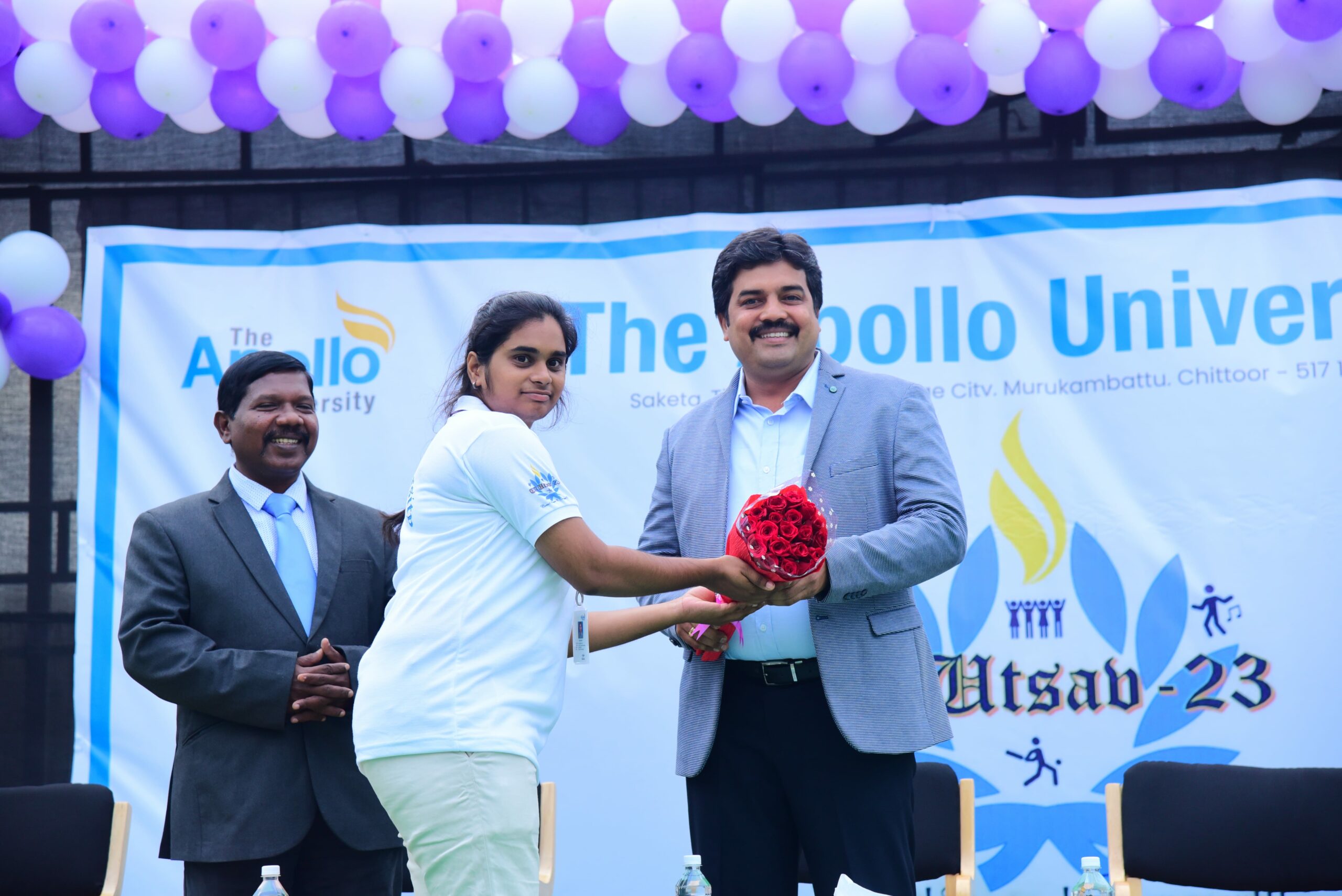 The Apollo University, a renowned institution for higher education in Chittoor, organised its much-anticipated Annual Day celebration, 'Tautsav – 23', on July 07th, 2023. The event was an extraordinary amalgamation of talent, cultural diversity and academic excellence, creating an unforgettable experience for all attendees.

The event commenced with the graceful invitation of esteemed speakers- Chief guest of the event, honourable Vice Chancellor Dr Vinod Bhat, Respected Registrar Prof M. Potharaju, Prof.A.Sethuramasubbiah, chief coordinator of the Annual Day Event, Prof M. Mariappan, Dean School of Management, Prof Sunil Kumar, Dean of School of Technology Dr B. Director of Health Sciences, Sri. Naresh Kumar Reddy, Chief Operating Officer, to the dais. The ceremonial lighting of the lamp symbolised the pursuit of knowledge and enlightenment, further reinforcing the university's commitment to fostering intellectual growth.

Prof. A. Sethuramasubbiah delivered a warm and engaging welcome address, emphasising the significance of the Annual Day celebration in recognising and appreciating the achievements of students and faculty alike. His words resonated with the audience, creating an atmosphere of enthusiasm and anticipation for the evening ahead.

The event's Chief Guest Honourable Vice-Chancellor Sir graced the occasion with an enlightening address. His speech focused on the importance of holistic education, instilling values, and fostering innovation among students. His presence added prestige to the event and left a lasting impact on everyone present.

In a fitting tribute to the importance of physical well-being, the Annual Day also included the distribution of sports prizes. Honourable Vice Chancellor, the Registrar and the Chief Operating Officer, distinguished personalities, presented awards to faculty members and students who excelled in various sports activities. This recognition encouraged a healthy and active lifestyle in the university community.

Dr Shani, the coordinator of the cultural committee, delivered a heartfelt vote of thanks, expressing gratitude to everyone involved in making Tautsav – 23 a resounding success. The contributions of faculty, staff and volunteers were acknowledged, highlighting the collective effort that went into organising such a memorable event.

Cultural activities formed an integral part of the Annual Day celebration, showcasing the university community's rich diversity and artistic talents. Students enthralled the audience with captivating music, dance performances, and theatrical displays, adding vibrancy and cultural richness to the event.

'Tautsav – 23' was a testament to Apollo University's commitment to providing a nurturing and holistic educational environment. By recognising achievements, celebrating talent, and embracing cultural diversity, the university continues to shape the leaders of tomorrow.

Following the Annual Day celebrations, a meeting was held to collect feedback on the event on 11 July 2023. Registrar Sir and Prof A. Sethuramasubbiah acknowledged the organisers and volunteers who made the event successful. They welcomed the faculty and students to share their feedback. The pitfalls of the event were identified and noted for rectification in further events.