Janjatiya Gaurav Diwas Report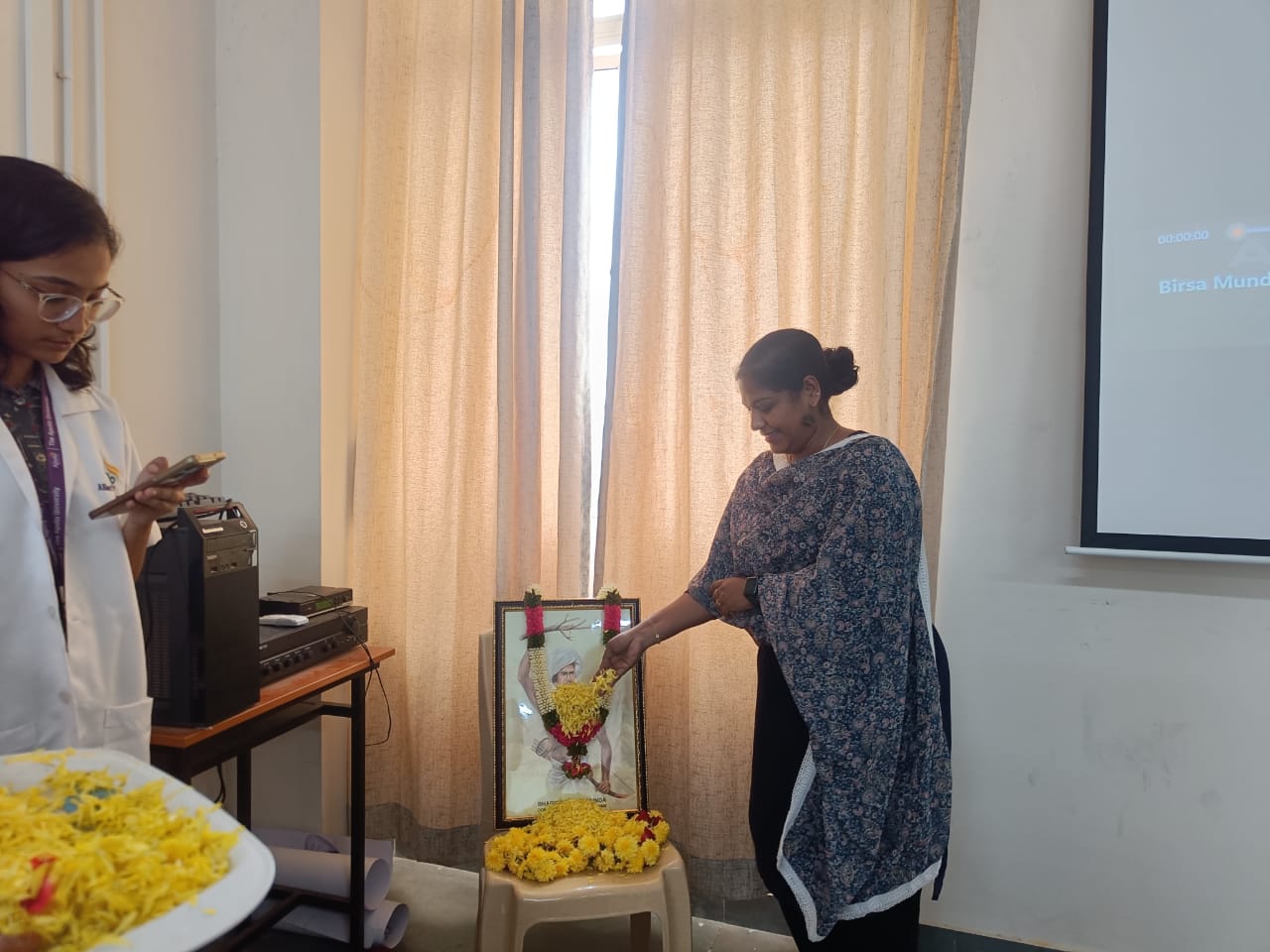 The Apollo University in Chittoor, Andhra Pradesh, resonated with the spirit of celebration as it observed "Janjatiya Gaurav Diwas" on November 15, 2023. The occasion marked the birth anniversary of Bhagwan Birsa Munda, an unsung hero of Indian Independence, revered as a tribal freedom fighter, religious icon, and folk hero. The event aimed to pay homage to Birsa Munda's significant contributions and to celebrate the rich tribal culture.
The ceremony was graced by the esteemed presence of Dr. S Bhaskar Naidu, Dr. R. Satyanarayana, Dr. Hima Bindu, Dr. Hemadri Reddy, Dr. G. Gopi Krishna, Dr. Shani, Sriroop Reddy, Monica Routh, V. Daniel, and the enthusiastic participation of both faculty members and students from the University.
The event commenced with a heartfelt tribute to Bhagwan Birsa Munda. Petals were showered on his photograph, and a poignant video biography was presented, capturing the essence of his life and struggles. The ceremony was then handed over to the capable hands of the Master of Ceremony, Pavani, the Student Coordinator of the Event Management Club.
The highlight of the event was the insightful address by Mughal Arshad, a B.Tech CSE student. Arshad passionately shared Birsa Munda's crucial role in the fight against British rule and his dedication to reclaim the lost kingdom of his people. Drawing parallels between the youth and Birsa Munda, Arshad emphasized the importance of taking initiative and driving change. His speech resonated with the audience, inspiring and motivating the students present.
The University's Event Management Club orchestrated the entire program, ensuring a seamless flow of events and a vibrant atmosphere. The club's efforts were evident in the coordination of activities and the thoughtful arrangement of the ceremony.
The culmination of the event featured a vote of thanks, expressing gratitude to all the dignitaries, faculty members, students, and the Event Management Club for their contributions. The Master of Ceremony, Pavani, skillfully handled the proceedings, maintaining the rhythm and energy throughout the event. Saranya, a B.Sc Operation Theatre (AHS) student, who expressed appreciation for the collective effort that made the event a success, delivered the vote of thanks.