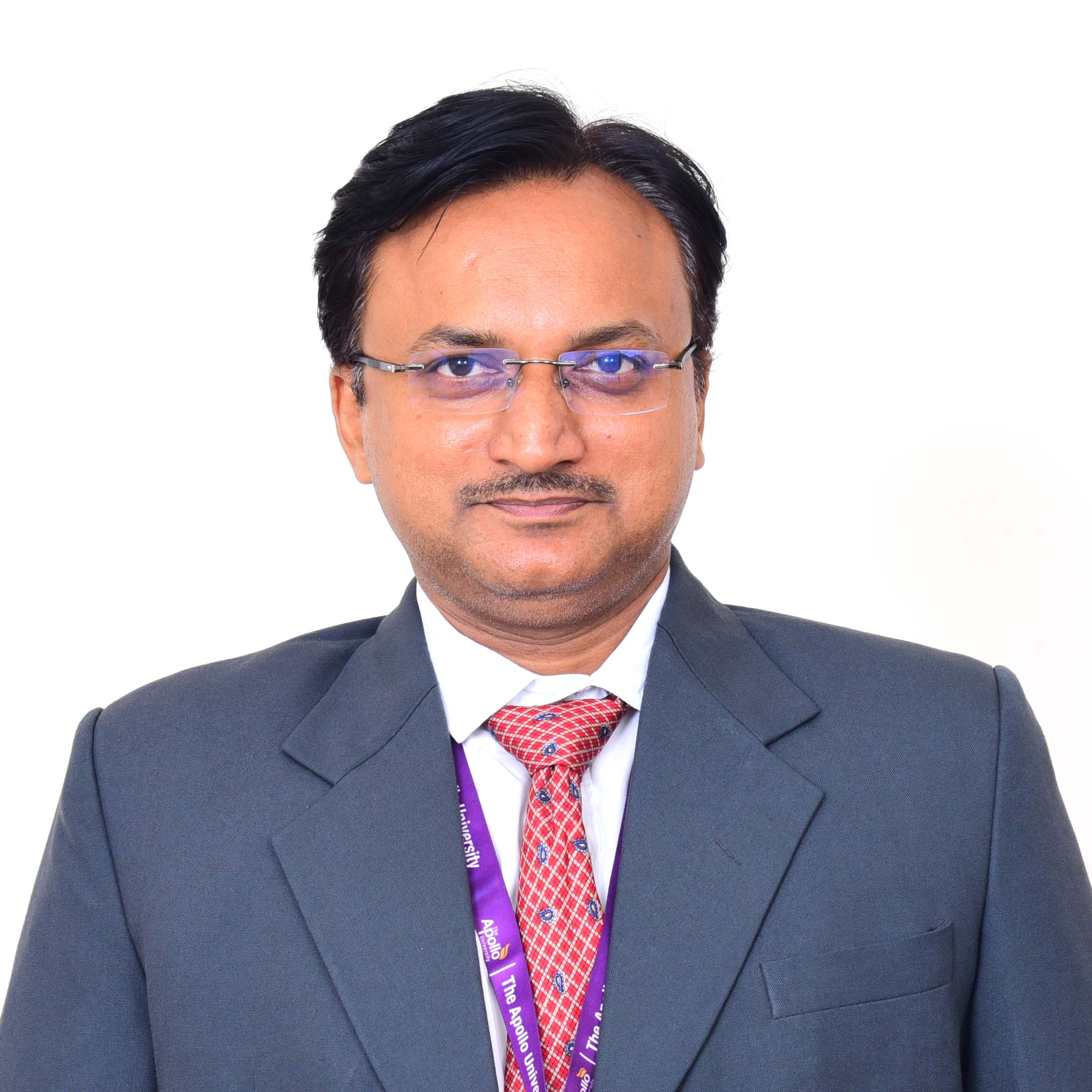 Dr R. Satyanarayana View All
Professor and Program Coordinator | Coordinator – Academic Affairs
School of Health Sciences
Dr. R. Satyanarayana is having 19 (Nineteen) years of Teaching and Research experience at various levels. He has been serving as Visiting Professor in Brigham Women's Hospital, Harvard Medical School, Boston, USA.
Prof. R Satyanarayana has published more than 25 SCOPUS Indexed research and review publications. Some of his publications are in ""Nature Publishing Group" and Eleven "Elsevier Publications" Papers, One International Text Book in Cancer Biology, 4 Book Chapters in Immunology, Stem Cells Biology and Artificial Intelligence.
Prof. Satyanarayana has completed worth of Rs. 2,67,58,640 research project works with funding from DST-SERB, Indian Council of Medical Research (ICMR), University Grants Commission (UGC), Department of Biotechnology (DBT), MHRD, Ministry of Food Processing Industries (MoFPI)etc. He already guided Six PhD students and guided 3 PhD students as co-guide.
Prof. R Satyanarayana acquired seven parents which show his research calibre in product development. Several industries are already approaching him for commercialization of the products he developed.
Prof. Satyanarayana is the Program Coordinator for B.Sc. Biomedical Science, B.Sc. Genetics and Molecular Biology and M.Sc. Health Informatics and Analytics.
Prof. Satyanarayana is currently the Coordinator for Academic Affairs in the University.
Prof. Satyanarayana is the Program Coordinator for Visitor Education Program Agreement (VEPA) that has been signed between The Apollo University and Brigham and Women's Hospital, USA.
Education + -

Graduation In :

B. PHARMACY

Graduation From :

OSMANIA UNIVERSITY

Graduation Year :

2001

Post Graduation In :

M. TECH BIOTECHNOLOGY

Post Graduation From :

JAWAHARLAL NEHRU TECHNOLOGICAL UNIVESRITY HYDERABAD

Post Graduation Year :

2005

Doctorate In :

BIOTECHNOLOGY

Doctorate From :

JAWAHARLAL NEHRU TECHNOLOGICAL UNIVERSITY

Doctorate Year :

2012

Experience+ -

The Apollo University, Chittoor from 2019- till date

GITAM University, Visakhapatnam from 2010-2019

Chaitanya Bharathi Institute of Technology, Hyderabad from 2008-2010

MIC College of Technology, Vijayawada from 2005 to 2008

Assistant Professor & SV College of Pharmacy from 2001 to 2002

Key Publication+ -

Satyanarayana Rentala, Ravi Raju Tatapudi, Prasad Gullipalli, Aruna Lakshmi Komarraju et al., High Prevalence of CKD of Unknown Etiology in Uddanam, India, Kidney International Reports (2019) 4, 380–389 (Impact Factor 6.234)
Satyanarayana Rentala; Ramakrishna Chintala; Manohar Guda; Madhuri Chintala; Aruna Lakshmi Komarraju; Lakshmi Narasu Mangamoori, "Atorvastatin inhibited Rho-associated kinase 1 (ROCK1) and Focal Adhesion Kinase (FAK) mediated adhesion and differentiation of CD133+CD44+ prostate cancer stem cells", Biochemical and Biophysical Research Communications, Volume 441, Issue 3, 22 November 2013, Pages 586–592 (Impact Factor 3.57)
Satyanarayana Rentala, Prameela Devi Yalavarthi & Lakshmi Narasu Mangamoori "α1 and β1 integrins enhance homing and differentiation of cultured prostate cancer stem cells", Nature Publishing Group – Asian Journal of Andrology 2010 July; 12 (4): pp.548-55. (Impact Factor 3.3)
Satyanarayana Rentala, Murali Mohan Sagar Balla, Satish Khurana and Asok Mukhopadhayay "MDR1 gene expression enhances long-term engraftibility of cultured bone marrow cells" Biochemical and Biophysical Research Communications. 2005, , Vol 335 (3). Pages 957-964 (Impact Factor 3.57)
Kamaraju, Jahnavi Rama Madhuri; Kanchi, Raghavendra Rao; Borra, Rajesh Kumar; Reniguntla, Padma Suvarna; Rentala, Satyanarayana, Synthesis, characterization and anti-cancer applications of ytterbium doped gadolinium molybdate nanophosphor compound, Materials Express, Volume 9, Number 8, November 2019, pp. 882-894(13) (Impact Factor 2.0)
Satyanarayana Rentala, Sagar BM, Gopal PN, Sharma S, Mukhopadhyay A "Fibronectin and laminin enhance engraftibility of cultured hematopoietic stem cells" Biochemical and Biophysical Research Communications. 2006 Dec 1;350(4):1000-1005. (Impact Factor 3.57)
Satyanarayana Rentala, Vema Reddy Bheeram, Saratchandra Babu Mukkamala et al., Gamma ray enhanced Vis-NIR photoluminescence and cytotoxicity of biocompatible silica coated Nd3+ doped GdPO4 nanophosphors, Nuclear Inst. and Methods in Physics Research B 440 (2019) 11–18 (Impact Factor 1.2)
Satyanarayana Rentala, Sivarama Prasad Darsi, Sreedhar Surampudi, Ram Reddy Barra, Adi Reddy Kamireddy et al., Differential Transcriptomic and Proteomic Analysis between Embryonic Cells and Aged Cells Confirms that Embryo is a Plethora of Rejuvenating Molecules, J Stem Cell Res Ther, Vol.9 Iss.6 No:1000453 (Impact Factor 2.2)
Satyanarayana Rentala and Lakshmi Narasu Mangamoori, "Isolation, Characterization and Mobilization of Prostate Cancer Tissue Derived CD133+ MDR1+ Cells", Journal of Stem Cells ISSN: 1556-8539, volume 5(2) pp.75-81. (Impact Factor = 2.0) (SCI Indexed)
Satyanarayana Rentala,Sudhakar Konada, Ramakrishna Chintala, Lakshmi Narasu Mangamoori,  Suryanarayana Murthy Upadhyayula and Sarva Mangala Dhurjeti, Docking studies of Vitamin C, Vitamin E, Damnacanthal and Scopoletin with human lens gamma D-crystalline, 2013; 9(14): 721–724. (Impact Factor = 1.5) (SCI Indexed)
Veera Brahmam Alugolu, Satyanarayana Rentala, Aruna Lakshmi Komarraju and Uma Devi Parimi, "Docking studies of piperine-iron conjugate with human CYP450 3A4", Bioinformation 9(7): 334-338 (2013)  (Impact Factor = 1.5) (SCI Indexed)
Satyanarayana Rentala, Immunopathology of chikungunya infection: An overview, MOLECULAR MEDICINE Bench to Bedside and Beyond, 2018, ISBN 978-81-936756-0-1 (Book Chapter),
Satyanarayana Rentala, Umamaheswara Rao Ganguru, Prameela Devi Yalavarthy and Lakshmi Narasu Mangamoori, "Artificial Intelligence in Medical Field" – a book chapter in Biomedical Engineering and Information Systems: Technologies, Tools and Applications, edited by Anupam Shukla and Ritu Tiwari, Medical information science reference publishers, IGI Global, 2010, Pages: 259-276. (Book Chapter)
Satyanarayana Rentala, Sreedhar Surampudi, and Sivaramaprasad Darsi Stem Cells: A Therapeutic Approach – Niche and Hallmarks of Cancer Stem Cells, published by Shineeks, Deeper Knowledge Publishers, ISBN: 978-1-63278-941-9 Volume 1, 2021     (Text Book)