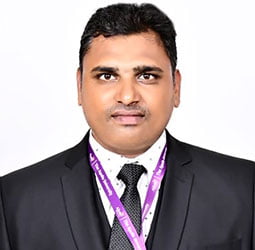 Ramireddy Sriroop Reddy View All
Assistant Professor
School of Health Sciences
Dr. Sriroop Reddy Ramireddy is an accomplished researcher in the field of Bioinformatics and Computational Biology, holding a Doctor of Philosophy (Ph.D.) degree from Vellore Institute of Technology, which he earned from 2014 to 2021. His groundbreaking thesis, titled "Functional Anomalies in Over-Expressed Genes Specific to Triple-Negative Breast Cancer (TNBC) – A Computational and Theoretical Perspective," has significantly contributed to our understanding of this complex disease.
His prolific research career is highlighted by a remarkable publication record, with a total of 13 research papers to his name, 12 of which are indexed in the TR-Web of Science and all 13 are Scopus indexed. These publications have contributed significantly to the field, resulting in a cumulative impact factor of 52.3 according to Thomson Reuters. His work has been cited 78 times on Google Scholar, reflecting the influence of his research, and he has achieved an H-Index of 4. Dr. Ramireddy's impressive Research Gate Score stands at 61.2, and three of his articles have been recognized by the WHO – Virtual Health Library. Dr. Ramireddy served as a Research Associate Grade 2 at ICMR (Indian Council of Medical Research), starting in July 2022. He is actively involved in the project titled "To Identify a Novel Target Compound to Inhibit the OXA β-Lactamases Causing Extremely Drug-Resistant Hospital-Acquired Infections."
His skills encompass a wide array of techniques and tools, including Molecular Dynamics Simulation using Gromacs, Sequencing analysis with NGS – WGS & WES Variant calling, and Microbiome data analysis. He is proficient in programming languages such as R and R Studio (Bioconductor) and is skilled in Molecular Modeling & Docking, utilizing AutoDock, GOLD suite, Glide, and Modeller. Dr. Sriroop Reddy Ramireddy continues to make significant contributions to the fields of bioinformatics, computational biology, and medical research, showcasing his dedication and expertise in tackling complex biological and medical challenges.
Education + -

Graduation In :

B.Sc BIOTECHNOLOGY

Graduation From :

VELLORE INSTITUTE OF TECHNOLOGY

Graduation Year :

2010

Post Graduation In :

M.Sc BIOTECHNOLOGY

Post Graduation From :

VELLORE INSTITUTE OF TECHNOLOGY

Post Graduation Year :

2012

Doctorate In :

BIOINFORMATICS AND COMPUTATIONAL BIOLOGY

Doctorate From :

VELLORE INSTITUTE OF TECHNOLOGY

Doctorate Year :

2021

Key Publication+ -

Publications in Journals

Balasundaram, Ambritha, Sriroopreddy Ramireddy, Iftikhar Aslam Tayubi, and Hatem Zayed and George Priya Doss (2023) A new horizon in the phosphorylated sites of AGA: the structural impact of C163S mutation in aspartylglucosaminuria through molecular dynamics simulation. Journal of Biomolecular Structure and Dynamics. Publisher: Taylor & Francis Online (Impact factor: 3.3)
Mohanraj Gopikrishnan, Sriroopreddy Ramireddy, Rinku Polachirakkal Varghese, Yamuna Devi Bakathavatchalam, Thirumal Kumar D, Abi Manesh, Balaji veeraraghavan and George Priya Doss. (2023) Determination of potential combination of β-lactam and β-lactamase inhibitors against class D oxacillinases producing Acinetobacter baumannii: Evidence from in-vitro, molecular docking and dynamics simulation". Journal of Cellular Biochemistry Publisher : Elsevier (Impact factor: 4)
Sriroopreddy Ramireddy, P. Raghuraman & C. Sudandiradoss (2019). Structural
debilitation of mutation G322D associated with MSH2 and their role in triple-negative breast cancer. Journal of Biomolecular Structure and Dynamics.
Publisher: Taylor & Francis Online (Impact factor: 3.3)
Sriroopreddy Ramireddy, Raghuraman P, Sreeshma J, Kamalesh D & Sudandiradoss C (2021). Exploring the structural significance of molecular switch mechanism alias motif phosphorylation in Wnt/β-catenin and their crucial role in triple- negative breast cancer. Archives of Biochemistry and Biophysics.
Publisher: Elsevier (Impact factor: 4.01)
Sriroopreddy Ramireddy, P. Raghuraman, Pradhyum Khandelwal, Jayanthi Abraham & C. Sudandiradoss (2018). A molecular simulation analysis of vitamin D targets interleukin 13 (IL13) as an alternative to mometasone in asthma. 3 Biotech. Publisher: Springer (Impact factor: 2.893)
Sriroopreddy Ramireddy, Rakshanda Sajeed, Raghuraman P & Sudandiradoss C
(2019). Differentially expressed gene (DEG) based protein-protein interaction (PPI)
network identifies a spectrum of gene interactome, transcriptome and correlated miRNA in nondisjunction Down syndrome. International Journal of Biological
Macromolecules. Publisher: Elsevier (Impact factor: 8.025)
Sriroopreddy Ramireddy & C. Sudandiradoss (2018). Integrative network-based approach identifies central genetic and transcriptomic elements in triple-negative breast cancer. Functional & Integrative Genomics. Publisher: Springer Nature (Impact factor: 3.711)
P R, Sriroopreddy Ramireddy, Chakraborty S, Mukherjee S, JS, C Sudandiradoss
(2021). Structural localization of pathogenic mutations in the central nucleotide-binding domain (NBD) of nucleotide-binding oligomerization domain-2 (NOD2) protein and their interence in inflammatory disorders. Nucleosides, Nucleotides & Nucleic Acids.
Publisher: Taylor & Francis Online (Impact factor: 1.167)
Utkarsh Nagpal, D. Kamalesh, P. Raghuraman, Sriroopreddy Ramireddy & C.
Sudandiradoss (2020). Delineating the folding perturbations and molecular mechanisms of Thr-Ala 642 mutation in Rab-GTPase activating protein Akt substrate of 160kDa and its impact on the aetiology of diabetes. Journal of Biomolecular Structure and Dynamics.
Publisher: Taylor & Francis Online (Impact factor: 3.3)
Amogh S. Deshpande, Sriroopreddy Ramireddy, C. Sudandiradoss, Ayesha Noor & Priyankar Sen (2019). Streptozocin; a GLUT2 binding drug, interacts with human serum albumin at loci h6DOM3-h7DOM3. International Journal of Biological Macromolecules. Publisher: Elsevier (Impact Factor: 8.025)
Nasser Abdulatif Al-Shabib, Javed Masood Khan, Ajamaluddin Malik, Priyankar Sen, Sriroopreddy Ramireddy, Sudandiradoss Chinnappan, Salman Freeh Alamery, Fohad Mabood Husain, Aqeel Ahmad, Hani Choudhry, Mohmmad Imran Khan & Sayed Ali Shahzad (2019). Allura red rapidly induces amyloid-like fibril formation in hen egg white lysozyme at physiological pH. International Journal of Biological Macromolecules. Publisher: Elsevier (Impact Factor: 8.025)