Inaugural – Computer Society of India and Coding Club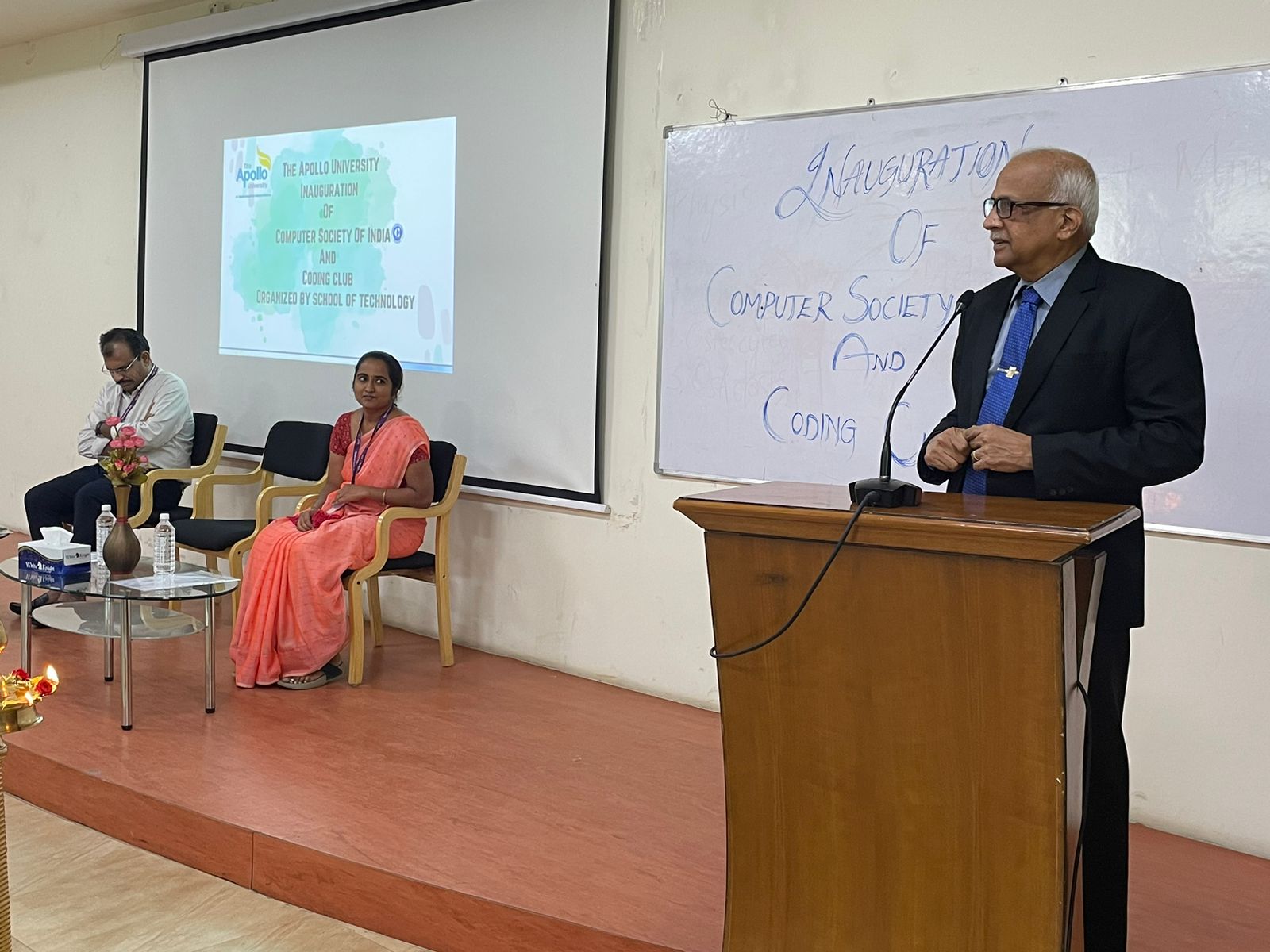 The School of Technology (SOT) organized the Inaugural ceremony of the Computer Society of India (CSI) and the Coding Club (CC) on 23 rd June 2023. Hon Vice Chancellor, Vinod Bhat, was the Chief Guest, Prof. M Potharaju, Registrar Guest of Honor, Prof. Charupalli Sunil Kumar, Dean – SoT, Dr A B Manju, Asst Professor – Coordinator, and students presided over the event, which commenced with the Lighting of the Lamp. Dr. A B Manju welcomed all the dignitaries and addressed the gathering. Prof. Vinod Bhat emphasized the significance of platforms and their part in skill upgradation through collaborative learning. Prof. Charupalli Sunil Kumar encouraged the students to leverage these forums and gain the best knowledge and highlighted the vital role of the CSI and the CC.

It was amazing to see the students of the SoT actively participate in the organization and planning of the event. Mughal Arshad, anchored the Program. A Sushma and Deekshita Reddy presented the objectives and benefits of the CSI and CC; Action Plan by Lasya Reddy and Sri Lakshmi Kamakshi. Syed Khashed, Shaik Yasir Hameed, C Jathin Reddy, Aquill Rao, G Krishnakanth, V Pranav, and M Vekesh, provided technical support. Photography by R Daswanth Reddy, A C Sujith, A Rohith Kumar and Daswanth Reddy. Event Management D Bhargavi, K S Charan, Saranya Sree, K Keerthi Naga Sai Durga, M Nagamalleswari.
Faculty members from various schools graced the event. Dr Hima Bindu, Associate Professor, Dr Sreeraman, Associate Professor, Dr T Vivekhanandan, Associate Professor, Dr G Srihari, Associate Professor, Dr Sekhar K R, Asst. Professor, Mrs Andrea Mallya, English, School of Technology. Dr K RPraneeth, Asst. Professor, Dr D Shahanaz, Asst Professor, School of Management. Dr A Kabilan, Asst Professor, Dr Vandana Kaja, Asst Professor – School of Health Sciences.