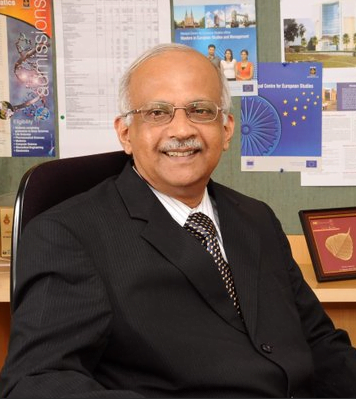 Dr. Vinod Bhat
Vice Chancellor, Apollo University
---
Prof. Vinod Bhat, in his last role, was the Executive Vice President of Manipal Academy of Higher Education (MAHE), Manipal, before which he was the Vice Chancellor there. With his rich experience in research, he led the spectacular growth in external research funding attracted by the institution. The Research Directorate he set up plays a vital role in directing targeted research across all disciplines. He also served as an Advisor to Manipal Global Education Services (MaGE). Prof. Bhat also serves on the Board of the Group T International University, Leuven, Belgium, the International Board of Advisors of Global Next University, Kuala Lumpur, and on the Editorial Board of Journal of Rural and Remote Health, Australia. He was Co-Chair of the FICCI Higher Education Committee for the year 2017-18.
As a science administrator par excellence, he was instrumental in establishing the Office of International Programs at MAHE which co-ordinates more than two hundred academic linkages with universities abroad. Prof. Bhat has also initiated over 25 Dual Degree programs with European Universities in the last six years and is responsible for setting up the Centre for European Studies in Manipal, the first ever in the private sector, with a generous grant from the Delegation of European Union to India. As a part of the Vision 2020 exercise for Manipal where it is envisaged that Manipal will be in the top 200 Universities of the world, he had created over 70 centres in the University in the last 24 months. He is also closely associated with several new projects like the entry of Manipal into Sri Lanka and South Africa, the expansion of Dubai operations, strategic planning, and growth. On the personal front, Prof. Vinod Bhat is married to Dr. Parvati Bhat who is retired and was former professor and Head of Department of Obstetrics and Gynaecology at Melaka Manipal Medical College and former Medical Superintendent, TMA Pai Hospital in Udupi. The couple have two sons, Anand and Dr. Dhananjay.
---
The Apollo University aspires to create global leaders of the future, through transformative education developed at the intersection of healthcare, technology, and management having roots in Innovation & Research in an inclusive culture that stimulates critical thinking and sustains our legacy of excellence. In his role, Prof. Vinod Bhat will be responsible for the smooth functioning of the University, devising strategies and action plans for achieving Academic Excellence, nurturing a Research and Innovation ecosystem Governance supported by National & International Collaborations and good.
---