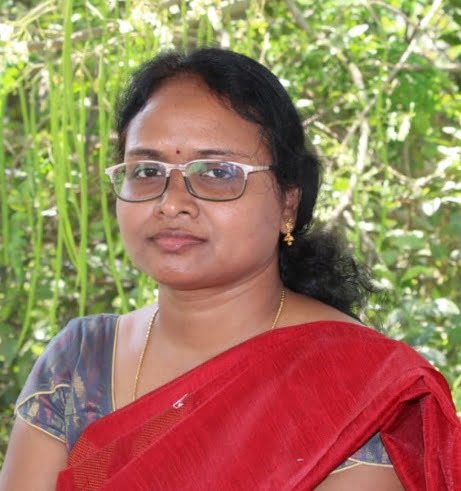 Dr Usha .K
Assistant Professor
School of Health Sciences
Dr Usha .K did her graduation and post-graduation in the field of Microbiology from Sri Venkateswara University, Tirupati. Her Ph.D., was a collaboration work with Sri Venkateswara university, Tirupati and Sri Venkateswara Institute of medical sciences (SVIMS), Tirupati.
In her doctoral thesis, she revealed for the first time the sero-types that cause scrub typhus fever in Southern part of India and a few sequences were submitted to NCBI-Genbank. She has over 9 years of research experience.
She is a recipient of Early career Scientist (PI) for a project funded by DBT under BioCARE Scientist Scheme at Indian Council of Medical Research – National Institute of Nutrition (ICMR-NIN), Hyderabad (Project Cost: 41.95 Lakhs) and worked on reverse genetics in Blue Tongue Virus and its molecular characterization.
Currently she is a recipient of Principal Investigator as Young scientist for a project funded by Department of Health Research through Jawaharlal Institute of Postgraduate Medical Education and Research (JIPMER), Pondicherry (Project Cost: 51.90 Lakhs) to carry out molecular objectives on Mycobacterium tuberculosis and Non Mycobacterium Tuberculosis.
Her specialization in the field of Infectious disease, molecular biology, antibiotic resistance mechanism, molecular virology – reverse genetics and immune evasion made her to publish her findings in reputed journals. She participated in many conferences and seminars and presented her work.
Education + -

Graduation In :

BSc., Biotechnology

Graduation From :

Sri Venkateswara University

Graduation Year :

2007

Post Graduation In :

MSc., Industrial Microbiology

Post Graduation From :

Sri Venkateswara University (Campus)

Post Graduation Year :

2009

Doctorate In :

Microbiology

Doctorate From :

Sri Venkateswara University (Campus)

Doctorate Year :

2015

Experience+ -

Early Career Scientist – DBT BioCARe (01/2018 to 12/2021) ICMR – National Institute of Nutrition, Hyderabad, India

Young Scientist – DHR (12/2022 to till date) Jawaharlal Institute of Postgraduate Medical Education & Research (JIPMER), Pondicherry, India

Key Publication+ -

Publications in Journals

Usha, E. Kumar, Usha Kalawat, A. Chaudhury, B. Siddhartha Kumar, DVR. Sai Gopal. Molecular characterization of Orientia tsutsugamushi serotypes  causing  scrub typhus outbreak in Rayalaseema region, Andhra Pradesh, India Indian J Med Res. 2016; 144 (4), 597-603 (Impact Factor –  5.274); https://pubmed.ncbi.nlm.nih.gov/28256470/
Usha, E.  Kumar, Usha Kalawat, A.  Chaudhury, B.  Siddhartha Kumar, DVR. Sai Gopal. Molecular detection of Scrub typhus in Tirupati, Andhra Pradesh, India.  J Vector Borne Dis 2015; 52(2):  171- 4 (Impact Factor 1.688).; https://pubmed.ncbi.nlm.nih.gov/26119551/
Usha, E. Kumar, Usha Kalawat, B. Siddhartha Kumar, A. Chaudhury,  DVR. Sai Gopal.Seroprevalence of Scrub typhus among febrile patients – a preliminary study. Asian J Pharm Clin Res.  2014; Vol 7, Suppl 1:  19-21; Read Details
Kumar, K. Usha, A. Chaudhury, BV. Ramana, DVR. SaiGopal. Detection of AmpC β-lactamases production in  Acinetobacter species by an inhibitor  (disc)  based & modified three dimensional (enzyme extraction) methods. Indian J Med Res 2014; 140: 688-690. (Impact Factor- 5.524).; https://www.ncbi.nlm.nih.gov/pmc/articles/PMC4311326/
Kumar, K. Usha, A. Chaudhury, BV. Ramana, DVR.  Sai Gopal.  Molecular characterization of plasmid mediated blaCTX-M15 Extended spectrum beta lactamase (ESBLs) in  Acinetobacter  spp.  isolates from ICU patients, at a tertiary care hospital, South India.  Indian J Med Microbiol.  2015;33(4):601-617(Impact Factor 1.347).; DOI: 10.4103/0255-0857. 16734 8
Kumar, K. Usha, BV. Ramana, A.  Chaudhury, DVR. SaiGopal. Plasmid profile and curing, biofilm detection among ESBL producing isolates of Acinetobacter species. Int J Pharm Pharm Sci. 2016; 8(4):  39-42; Read Details
Usha K, Kumar E, Gopal DS. Occurrence of various beta-lactamase producing gram negative bacilli in the hospital effluent. Asian J Pharm Clin Res. 2013 Aug 1;6(3):42-6.
Kumar, K. Usha, BV. Ramana, A. Chaudhury, DVR. SaiGopal. Prevalence of various β-lactamase (ESBL, AmpC and MBL) producing multidrug resistant clinical isolates of Acinetobacter spp. in a tertiary care hospital. Asian J Pharm Clin Res, vol6, suppl 4, 2013.: 28-31; Read Details
Nibandhana, K. Usha, E Kumar,Usha Kalawat. Prevalence of Gram negative bacilli showing resistance to carbapenems. Int j sci res 5(11): 2016:  39-42.; https://www.worldwidejournals.com/international-journal-of-scientific-research-(IJSR)/

Publications in Conferences